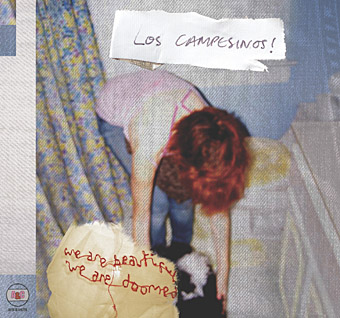 Los Campesinos!
are a band out of Wales that came out of nowhere in the beginning of summer only to completely knock my socks off. Like Belle and Sebastian hopped up on more speed than their twee brains can handle, their debut LP
Hold On Now, Youngster...
is sure to come out very near the top of my best of 2008 list, and it's been on heavy rotation on my iTunes since I first downloaded it off of
eMusic
. Songs about teenage angst and teenage love thrown in with a good sense of humor and dueling boy-girl vocals, it's a high energy affair from start to finish, with exclamation point heavy song titles like "This Is How You Spell 'HAHAHA, We Destroyed The Hopes And Dreams of a Generation of Faux-Romantics,'" "Death to Los Campesinos!" and "You! Me! Dancing!" It was the kind of album that seems to pop up so randomly it feels like a little gift from the music gods. See for yourself:
So imagine my surprise when perusing the interweb this morning, I learned that Los Campesinos! have released their! second! LP! entitled We Are Beautiful, We Are Doomed. That's two in well under a year. Quality rules over quantity, I know, which is why I'm happy to report on first listen that this LP is just as much fun as the first one, albeit a bit more laid back the energy level is down from 18/10 to a more reasonable 12 or so). Thanks guys! I'm so pleased that I'm going to go ahead and call my Best New Artist way ahead of year-end-list season. This one's for you, Los Campesinos! Now come back to America so I can see you live, kthx.